Attractions in Tucson- Arizona
Tucson is unique with it's many natural wonders and attractions. Ask our front desk for local insight on the many tourist attractions, activities, hot spots, casinos, golf courses and shopping in and around Tucson Arizona. Below are just a few Tucson Attractions and Tucson Activities where you can go while staying at Americas Best Value Inn - Tucson, AZ. Our Hotel is under 4 mi. to the University of Arizona and downtown Tucson, the Tucson Convention Center and just around the corner from Tucson Electric Park, The Tucson rodeo grounds and the Veterans Administration Hospital.
»View Location Map.
Saguaro National Park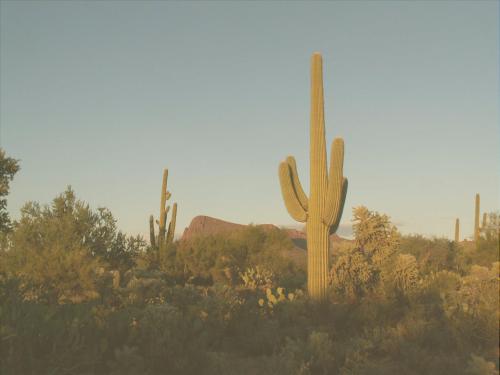 Delight in seeing the giants of the desert at this national park (East site or West site in Tucson). Before they extend their first arm a saguaro is usually over 75 years old. How old do you imagine the one pictured is? See undreds of cacti, succulents and desert plants! Wildlife abounds from the hawks overhead to the rabbits, javelina and coyotes roaming the desert. Hiking trails are all over the parks and bicycles are welcome.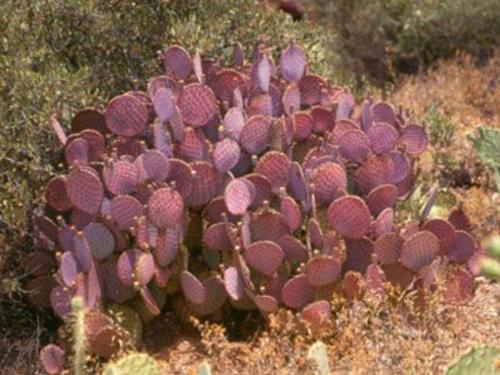 Arizona Sonora Desert Museum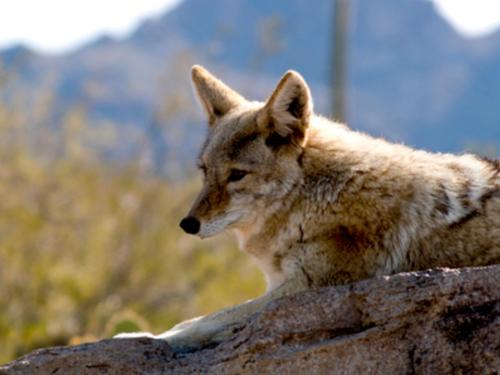 Website: www.desertmuseum.org
Coyotes are only one of the many animals to see. See beaver in their natural habitat. Enter the hummingbird aviary and not only marval at them but feel them zip by you.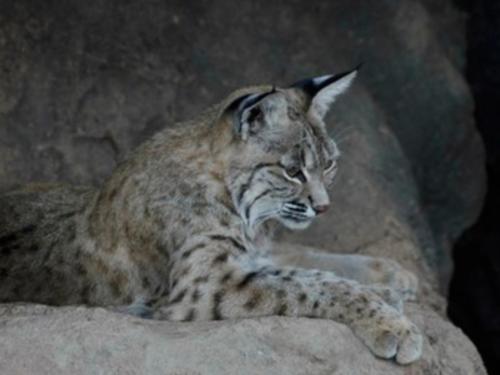 Bobcats and mountain lions are always popular to see. The black bears are amazing. See most of the animals native to the Sonoran desert from the prairie dogs to the birds of prey.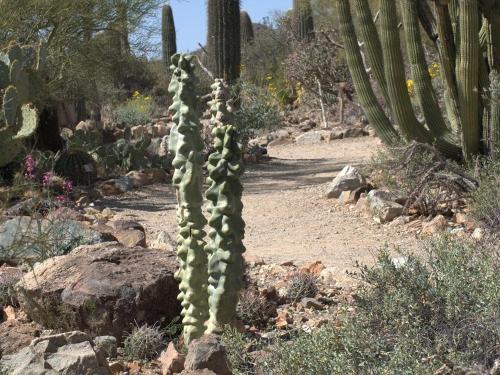 The Arizona Sonora Desert Museum is beyond a zoo. It is also a massive botanical garden of the Sonoran desert.
Old Tucson Studios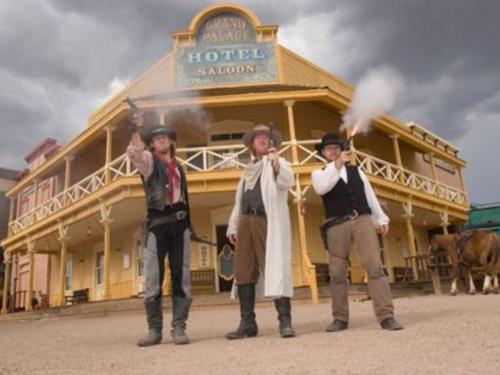 Old Tucson is the most famous western film set in the world. Come roam around this western town and watch recreated gun fights, robberies, and even take in a saloon stage show. You will see history played out right before your eyes!
Website: www.oldtucson.com
Pima Air and Space Museum and Bone Yard tours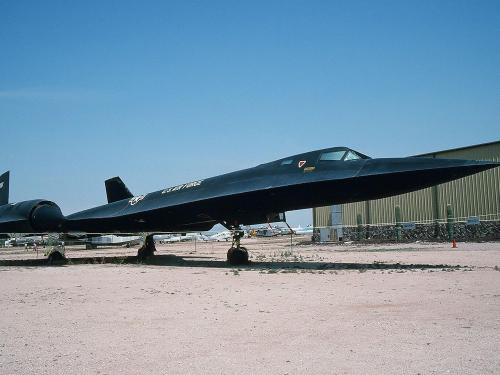 The Pima Air & Space Museum opened to the public in May 1976 with 75 aircraft on display. Since then the museum collection has grown to over 250 aircraft occupying 80 acres of land. The entire museum property covers about 150 acres.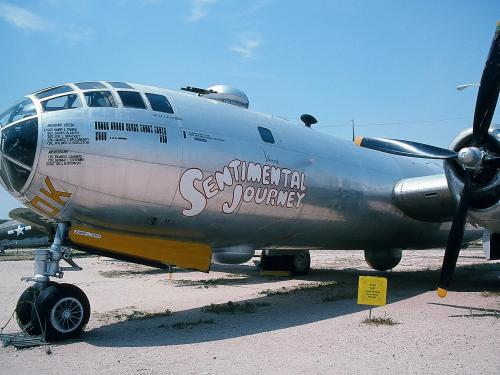 Mission San Xavier del Bac
Website: www.sanxaviermission.org

Mission San Xavier del Bac is a historic Spanish Catholic mission located about 10 miles south of downtown Tucson, Arizona, on the Tohono O'odham San Xavier Indian Reservation. The mission was founded in 1692 by the Jesuit missionary Eusebio Francisco Kino, founder of the Spanish missions in the Sonoran Desert chain, who often visited and preached in the area. Still an active church Mass is held every Sunday. Tours are also available.
University of Arizona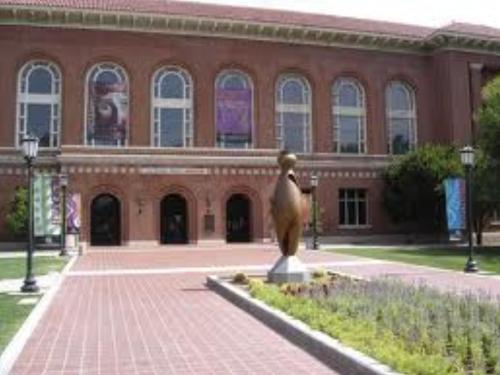 Website: www.arizona.edu

There is much to see at the University of Arizona. The Arizona State Museum,pictured above, is located on campus. The Flandrau science center and planetarium is also located on campus.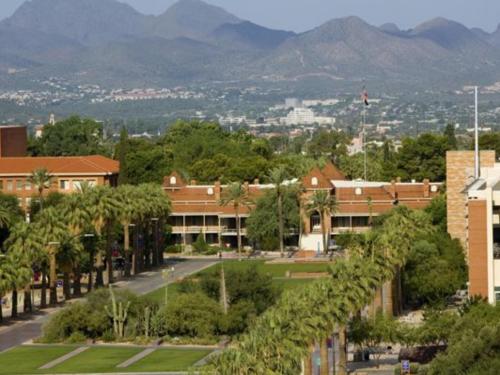 The University of Arizona is a land-grant and space-grant public institution of higher education and research located in Tucson, Arizona, United States. The University of Arizona was the first university in the state of Arizona, founded in 1885. As of the Fall 2010, total enrollment was 39,086 students.[7]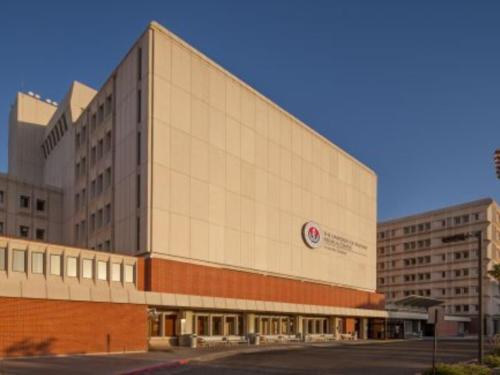 The university includes the University of Arizona College of Medicine which is one of three medical schools and the only MD granting medical school in Arizona.
Tucson Electric Park & Kino Sports Complex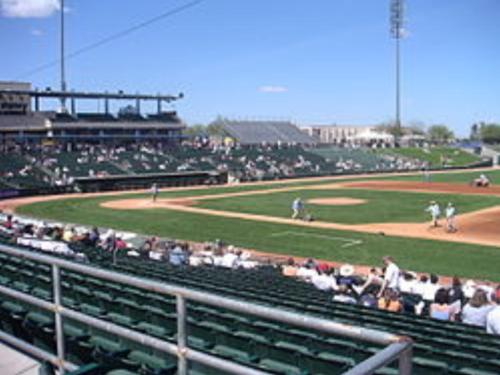 Website: www.kinosportscomplex.com

Home of the Tucson Padres, AAA team of the Pacific Coast League. Also hosts a huge part of the Tucson Gem & Mineral Show each February.
Biosphere 2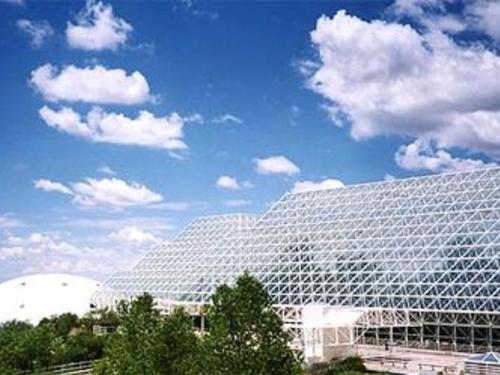 Website: www.b2science.org

Biosphere 2 is an Earth systems science research facility owned by the University of Arizona since 2011. Its mission is to serve as a center for research, outreach, teaching and lifelong learning about Earth, its living systems, and its place in the universe.
Pima County Fairgrounds
Tucson Botanical Gardens
Colossal Cave Mountain Park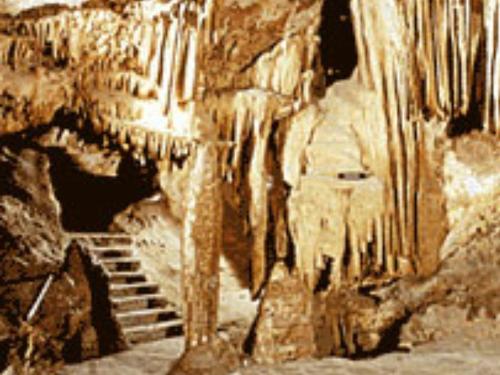 Website: www.colossalcave.com

Colossal Cave is located in the desert of Arizona. While there must have been water while it was formed, today this cave is extraordinarily dry. The Hohokam, Sobaipuri, and the Apache people once used the cave. Artifacts have been found throughout the cave, but most of the artifacts were found near the entrances. The museum in the La Posta Quemada Ranch has exhibits about the history of the ranch and the caves in the park.
The cave was discovered in 1879 by Solomon Lick. He was the owner of the nearby Mountain Springs Hotel and Stage Station. He found the entrance when he was out searching for stray cows. The cave was first used to mine bat guano, which was highly prized as fertilizer and for gunpowder.
Kitt Peak National Observatory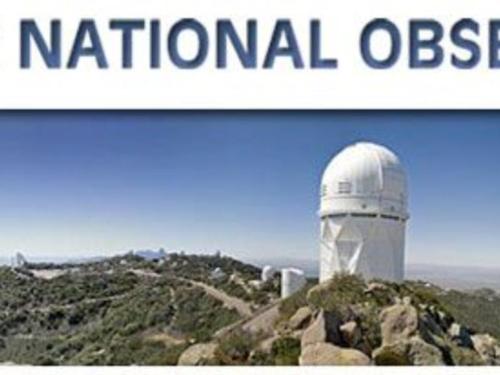 http://www.noao.edu/kpno/

Kitt Peak National Observatory (KPNO), part of the National Optical Astronomy Observatory (NOAO), supports the most diverse collection of astronomical observatories on Earth for nighttime optical and infrared astronomy and daytime study of the Sun. Sharing the mountaintop site with the National Solar Observatory, KPNO, founded in 1958, operates three major nighttime telescopes and hosts the facilities of consortia which operate 22 optical telescopes and two radio telescopes. (See the Tenant Observatories list.) Kitt Peak is located 56 miles southwest of Tucson, AZ, in the Schuk Toak District on the Tohono O'odham Nation and has a Visitor Center open daily to the public.
Sabino Canyon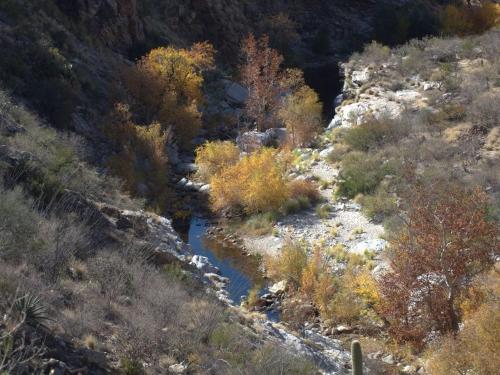 http://www.sabinocanyon.com/

Experience the beauty of one of the most unique Southwestern desert canyons on a Sabino Canyon tram ride. Sabino Canyon is a natural desert oasis located in Tucson's Coronado National Forest and is home to spectacular desert landscapes and abundant wildlife.

During the winter and summer rainy seasons, pools of water form in rocky outcroppings that wind up among hillsides resplendent with palo verde trees, cholla and prickly pear cactus and graceful groves of ocotillo.
Kartchner Caverns State Park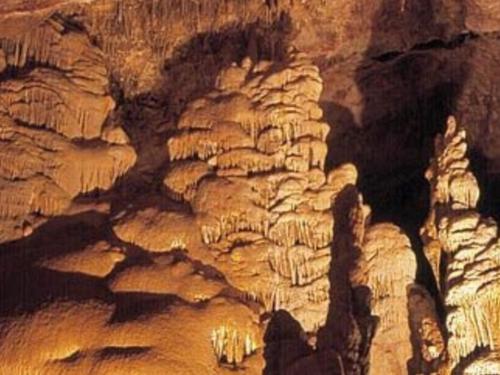 Kartchner Caverns State Park - Boasts the world's longest stalactite formation, Kartchner Caverns State Park also lets you see Arizona's tallest natural column formation below ground level. This state park is one of Arizona's most popular outdoor activities.

Located in Southern Arizona, Kartchner Caverns State Park is approximately 55 miles southeast of Tucson, near Benson.
Discovered in 1974, Kartchner Caverns is home to many outstanding features including remarkable minerals and formations in this massive limestone cave. It became an Arizona State Park in 1988. Truely remarkable is how hard the park works to conserve this "living" cave as the limestone caverns are still developing.

The caverns are extremely protected thanks to the extreme planning that went into all aspects of this site like the delicate lighting and the minimal human disturbance upheld by park staff.
Davis Monthan Air Force Base & boneyard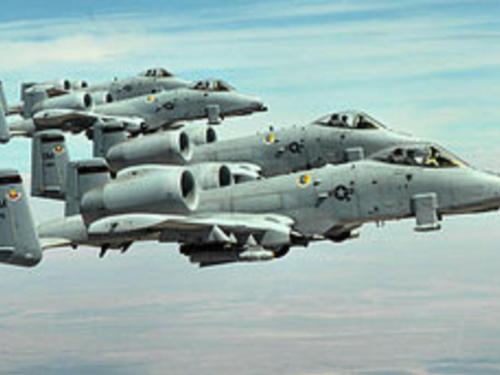 http://www.dm.af.mil/index.asp

Davis–Monthan Air Force Base (DM AFB) (IATA: DMA, ICAO: KDMA, FAA LID: DMA) is a United States Air Force base located within the city limits, and approximately 5 miles (8.0 km) south-southeast of downtown, Tucson, Arizona.
The host unit at Davis–Monthan is the 355th Fighter Wing (355 FW) assigned to Twelfth Air Force, which is headquartered at DM and is part of Air Combat Command (ACC). The 355 FW and various tenant units located on base provide A-10 Thunderbolt
Davis-Monthan Air Force Base, which is adjacent to the Pima Air & Space Museum, is best known as the boneyard for old military and government airplanes.
"Immediately after World War II, the Army's San Antonio Air Technical Service Command established a storage facility for B-29 and C-47 aircraft at Davis-Monthan AFB," reads the Davis-Monthan AFB website. "Today, this facility is the 309th Aerospace Maintenance and Regeneration Group (309 AMARG), which has grown to include more than 4,400 aircraft and 13 aerospace vehicles from the Air Force, Navy-Marine Corps, Army, Coast Guard, and several federal agencies including NASA."
Mount Lemmon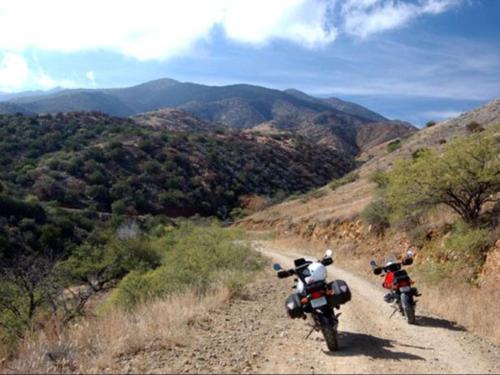 Mount Lemmon (O'odham: Babad Do'ag), with a summit elevation of 9,159 feet (2,792 m),[1] is the highest point in the Santa Catalina Mountains. It is located in the Coronado National Forest north of Tucson, Arizona, United States. Mount Lemmon was named for botanist Sarah Plummer Lemmon, who trekked to the top of the mountain with her husband and E. O. Stratton, a local rancher by horse and foot in 1881.[3][4] It is reported that Mount Lemmon Ski Valley, on the mountain's northeastern side, receives 200 inches (508 cm) of snow annually.[5]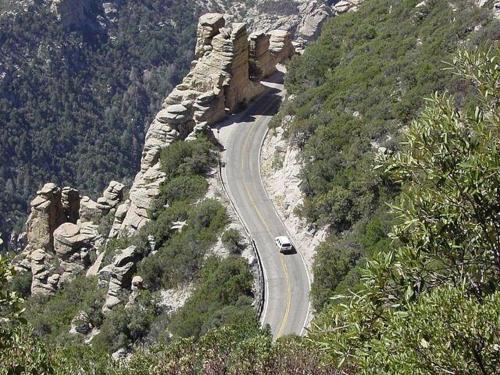 At the peak is the Mount Lemmon Observatory, which was formerly the site of a USAF radar base of the Air Defense Command,[7] and the building that formerly housed a military emergency radar tracking station for landing the Space Shuttle at White Sands Missile Range. Although the United States military had a presence on the mountain for several decades all their facilities have been abandoned and were given to the United States Forest Service.
Tombstone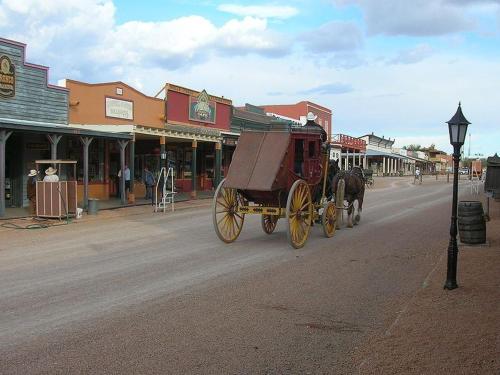 TOMBSTONE ARIZONA. That name means many things to many people. It creates images of gunfights and dusty streets, whiskey and Faro games, Wyatt Earp, Doc Holliday and a plethora of old western movie scenes. But what many folks don't realize is that Tombstone Az is a real town with real inhabitants who have lived here throughout its history and still do today. That is part of the reason Tombstone has been called "The Town Too Tough to Die". Tombstone is located just a little over an hour from Americas Best Value Inn in Tucson, Arizona.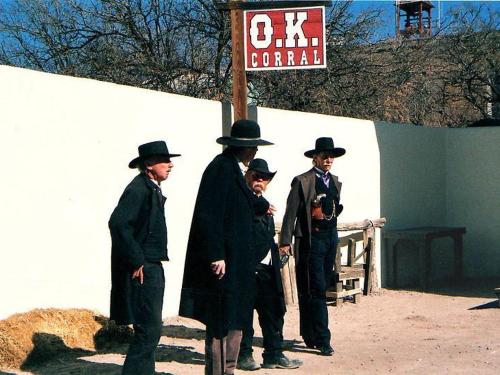 Tombstone is a historic western city in Cochise County, Arizona, United States, founded in 1879 by Ed Schieffelin in what was then Pima County, Arizona Territory. It was one of the last wide-open frontier boomtowns in the American Old West. The town prospered from about 1877 to 1890, during which time the town's mines produced US$40 to $85 million in silver bullion, the largest productive silver district in Arizona. Its population grew from 100 to around 14,000 in less than seven years. It is best known as the site of the Gunfight at the O.K. Corral and draws most of its revenue from tourism.
Cochise Stronghold in the Coronado National Forest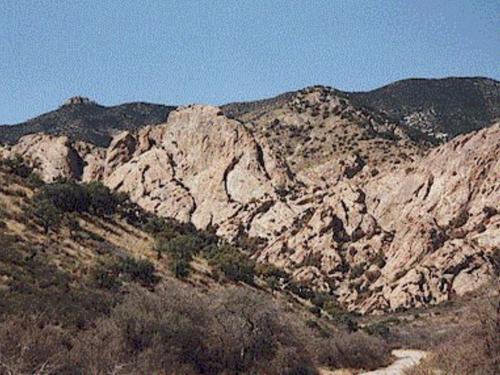 Cochise Stronghold is located to the west of Sunsites, Arizona in the Dragoon Mountains at an elevation of 5,000 ft. This beautiful woodland area lies in a protective rampart of granite domes and sheer cliffs which were once the refuge of the great Apache Chief, Cochise, and his people. Located within the Coronado National Forest it is managed by the Douglas Ranger District.